Welcome to the Pokémon Sage Wiki
Pokémon Sage is a collaborative fanmade Pokémon game by /vp/ that started in October of 2012.
So far we have a whopping 3,049 total edits on this wiki!
Our region Urobos is based on South and Central America and some of its Pokémon draw influence from there. We have over 200 different Pokémon that will be encounterable and capturable in the game! We are not adding any more Pokémon into the Pokédex and are currently working on revising the last few that have not been finalized.
Our game is being made on RPG Maker XP with Pokémon Essentials, with sprites in the 4th gen style.
A forum has been made to post in depth discussions. You can access it here. The forum allows for guest posting if you wish to stay anonymous.

We are no longer accepting Pokémon. At this point only revision surveys will be held. Pages created for new Pokémon will be deleted. Fairy type and Mega Evolutions will not be implemented. This is a final decision, and will not be changed.
The current maximum sprite size is 96 x 96. We are working with RPG Maker XP + Essentials. All sprites should be added to the Sprites page. Please read the guidelines before uploading.
Please do not edit Pokémon pages without discussing it in the thread first. As a general rule, silence is not approval.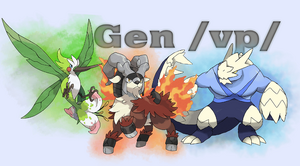 Some pages contain spoilers! View at your own risk!
The community making this game is very diverse. We have artists, musicians, and programmers all working together to create this fanmade game. We are really trying to capture the spirit of Pokémon games. We want to make this a fun and enjoyable experience for any Pokémon player.
Ad blocker interference detected!
Wikia is a free-to-use site that makes money from advertising. We have a modified experience for viewers using ad blockers

Wikia is not accessible if you've made further modifications. Remove the custom ad blocker rule(s) and the page will load as expected.